ST. LOUIS, Missouri --- Washington University put together an 8-play, 67-yard drive with just three minutes remaining to knock Wabash from the unbeaten ranks Saturday, 24-20.
The Bears led until Tyler Burke's 3-yard run with just under five minutes to play in the game. Washington quarterback Steve Sherman marched his teammates down field and capped the winning drive with an 18-yard TD toss to Easton Knott.
The host Bears earned their third win defending a flurry of Little Giant passes toward the end zone as time expired
"It was a poor, poor performance defensively," Coach Erik Raeburn said. "Offensively, we're called for holding six times in the first half. You can't make any drives when you end up with first-and-20 all the time. We stunk it up."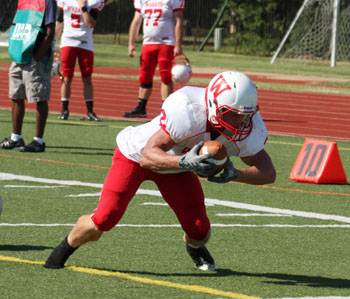 The Bears failed to capitalize on a number of opportunities early in the game and finally scored early in the second period. Wabash evened things up with just 31 seconds to play when Derrick Yoder took a short Chase Belton pass for 40 yards and a score.
But the next series was the one that may have epitomized the Little Giants' bad day. With just 13 seconds before half, Jim O'Brien took a swing pass from Sherman, turned the corner and raced untouched for a 63-yard score and a 14-7 halftime lead.
"That was terrible defense to give up a score, a 60 yarder, right before halftime," Raeburn said. "It was a combination … we were in a bad defensive call and poor execution."
Wabash out-rushed the Bears 141-97 while Washington notched 266 yards passing to the Little Giants' 220.
One of the bright spots was Derrick Yoder's big offensive day. The senior back rushed 16 times for 71 yards. He caught three passes for 44 yards and two scores.
Burke and starting quarterback Chase Belton rushed for 35 and 24 yards. Belton, who went out at halftime with an undisclosed injury, threw 9-of-12 for 85 yards. Burke hit on 11-of-19 throws for 135 yards.
C.J. Gum again led the defense with 12 stops and a quarterback sack. Jake Martin added nine tackles. Bear standout Nick Hilliard had 15 stops, three for loss to lead Washington.
The last Wabash regular season, non-conference loss that didn't occur in the Bell Game was to Franklin College in 2006.
The Little Giants return home next week for a Fall Break meeting with Oberlin.